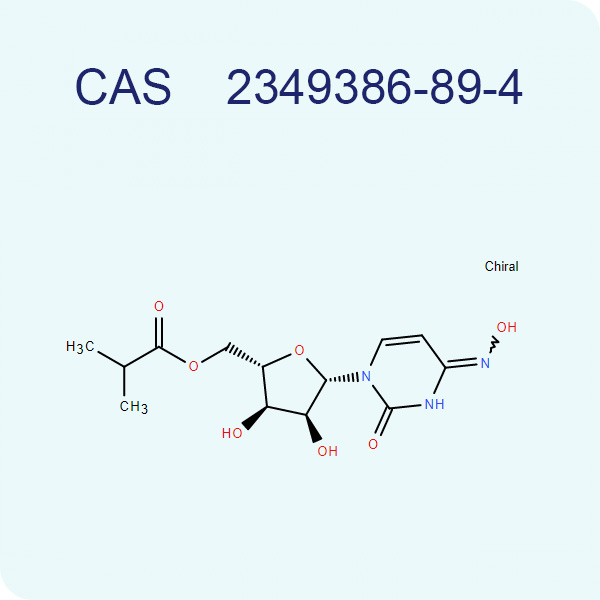 Molnupiravir(EIDD-2801)
January 7, 2022
Naphthalene-2,3-dicarbonitrile
March 11, 2022
Burgess reagent
API CDMO is the best Burgess reagent raw materials manufacturer in China and the monthly production capacity is 5830KG. Burgess reagent is selective agent of mild strength used for dehydration in organic reactions and synthesis, its' stability of the product is good. Welcome to contact with us for more details!
Burgess reagent is selective agent of mild strength used for dehydration in organic reactions and synthesis, its' stability of the product is good. It is already widely used in pharmaceutical manufacturing field. The main use of Burgess reagent are in the synthesis of alkenes using alcohols and promote great synthetic values in medicinal chemistry.
---
Product
Burgess reagent
CAS No.
29684-56-8
Synonyms
(METHOXYCARBONYLSULFAMOYL)TRIETHYLAMMONIUM HYDROXIDE;
(METHOXYCARBONYLSULFAMOYL)TRIETHYLAMMONIUM HYDROXIDE, INNER SALT;
METHYL N-(TRIETHYLAMMONIOSULFONYL)CARBAMATE;
N,N-DIETHYL-N-(((METHOXYCARBONYL)AMINO)SULFONYL)ETHANAMINIUM, INNER SALT;
SMILES
CC[N+](CC)(CC)S([O-])(=O)=NC(=O)OC
InChI
1S/C8H18N2O4S/c1-5-10(6-2,7-3)15(12,13)9-8(11)14-4/h5-7H2,1-4H3.
InChI key
YSHOWEKUVWPFNR-UHFFFAOYSA-N
Availability
In Stock
MF.
C8H18N2O4S
MW.
238.3
Melting Point
76-79°C
Boiling Point
N/A
Appearance
Slightly yellow crystalline powder
Purity
98%
Application
For research use only
Storage
Store at -20°C. Moisture Sensitive.
COA & NMR
Download
MSDS
Download
---
Burgess reagent
Burgess reagent is a term used to describe Methyl N-(triethylammoniumsulphonyl) carbamate. It is a selective agent of mild strength used for dehydration in organic reactions and synthesis. Its main use is in the synthesis of alkenes using alcohols. 
It is also utilized to promote great synthetic values in medicinal chemistry. It has been used in the dehydration of primary amides, formamides, and primary nitroalkanes to generate nitriles, isocyanides, and nitrile oxides respectively. It forms urethanes when it reacts with primary alcohols.
Burgess reagent was first discovered in 1968 by E.M. Burgess but it was only widely recognized when Peter Wipf used it extensively in different reactions. 
---
Features of Burgess reagent
A particularly special characteristic of burgess reagent is how its dehydrating action is a pyrolytic reaction, that is it occurs only above 100°C. 
It is highly soluble in most organic solvents.
Highly soluble even in nonpolar solvents formulated in the form of a salt.
Dehydrating action of burgess reagent is syn-elimination.
---
Uses of Burgess reagent
Burgess reagent is used in many important transformations including the preparation of isocyanides, nitriles, and nitrile oxides. Of all its applications, the most important use of burgess reagent is the dehydration of thioamides and hydroxy amides to synthesize heterocycles. 
As dehydration with burgess reagent demands only mild conditions, it has been widely accepted in the synthesis of organic compounds. 
---
Mechanism of action of burgess reagent
Burgess reagent is a variant of Ei mechanism, and this is the mechanism of action by which it works. This mechanism has been theorized based on the dehydration of threo and erythro-2-deuterio-1,2-diphenylethanol, which was originally studied by Burgess himself. 
The initial step, which comprises the formation of sulfamate ester, occurs in hydrocarbon solvents at or below 30° C through the reaction between the reagent and an alcohol.
After this compound is heated up with a microwave, pyrolysis occurs on the sufamate ester. The ionizing reaction of the carbon holding the main sulfamate group produces an ion pair. The collapse of this ion pair results in the transportation of hydrogen from the cation to the anion. This step is the rate-determining step. 
This process has a low energy level due to the contribution of positive entropy. Thereafter, the capture of proton becomes easier reducing all ion-pairing character and consequently the carbonium ion rearrangements. 
---
Applications of Burgess reagent
Dehydration of alcohols
When alcohols need to be dehydrated, the primary factors that determine the reaction include the nature of the alcohol group, whether it is tertiary, secondary, or homoallylic, the configuration, as well as the environment. If tertiary or secondary alcohols are treated using a Burgess reagent within a solvent, the resulting olefins are approximately 90% in yields.
Nitriles from primary amides
To synthesize nitriles, an easy process is via dehydration of primary amides. Commonly used reagents for this chemical process are often not suitable when other functional groups are present, and thus require further protection to prevent the synthesis of a completely different compound. However, burgess reagent works quite efficiently for this transformation. 
Isocyanides from formamides
Isocyanides are compounds that take part in a wide range of chemical reactions that involve synthetic transformations. Of all the methods available, the dehydration of formamides is the route that is most preferred. To this end, burgess reagent is an effective and safe agent that can be used to convert the compounds by altering their functional groups. Burgess reagent can convert formamides into isocyanides readily in large quantities. It is specially effective for all substrates that contain ether groups.
Nitrile oxides from nitroalkanes 
A particularly useful group of heterocylces are isoxazolines, which is formed from nitrile oxides by conversion of different alkenes. Generally, nitrile oxides are extremely reactive intermediate compounds which can itself undergo a transformation to produce isoxazoles or undergo dimerization to synthesize furoxanes. Two routes that are most commonly used for synthesizing nitrile oxides are dehydrogenation of aldoximes through hydroxamoyl halides or via dehydration of nitro compounds. The second method used to synthesize nitrile oxides using Burgess reagent is particularly useful as it is very easy to set up. 
Synthesis of heterocycles (Wipf cyclodehydration protocol)
Over the past few years, an increasingly common application of burgess reagent is in the cyclodehydration of hydroxy amides and thioamides. This leads to the production of corresponding heterocycles, which are essential synthetic intermediate compounds as they form an integral component of several biologically active natural products. Normally, the preparation of heterocycles is a complicated multistep process. But, with Burgess reagent, only a single step is essential for the cyclization of hydroxy amino acid in order to synthesize dihydrooxazoles using derivatives of serine and threonine derivatives. 
Other miscellaneous reactions
When Burgess reagent is used in different reactions, the end products are often unique and unexpected. But, such end products have often been found to be quite useful.
Reference
[1]
Maki, T.; Tsuritani, T.; Yasukata, T. A Mild Method for the Synthesis of Carbamate-Protected Guanidines Using the Burgess Reagent. Org. Lett. 2014, 16 (7), 1868-1871.
[2] Mild, efficient dehydrating agent. Primary alcohols are converted to carbamates, which can be hydrolyzed to primary amines, thus providing a valuable alcohol to amine transformation. Secondary and tertiary alcohols afford olefins in synthetically useful yields: J. Org. Chem., 38, 26 (1973); Org. Synth. Coll., 6, 788 (1988). For further discussion, see: Encyclopedia of Reagents for Organic Synthesis, L. A. Paquette, Ed., Wiley, Chichester (1995), vol. 5, p. 3345.
[3]
Sachin Khapli, Satyajit Dey & Dipakranjan Mal (2001). "Burgess reagent in organic synthesis" (PDF). J. Indian Inst. Sci. 81: 461–476. Archived from the original (PDF) on 2004-03-02.
[4]
Edward M. Burgess; Harold R. Penton Jr. & E. A. Taylor (1973). "Thermal reactions of alkyl N-carbomethoxysulfamate esters". J. Org. Chem. 38 (1): 26–31. doi:10.1021/jo00941a006.
[5] Atkins, G. M.; Burgess, E. M. (1968). "The reactions of an N-sulfonylamine inner salt". J. Am. Chem. Soc. 90 (17): 4744– doi:10.1021/ja01019a052.