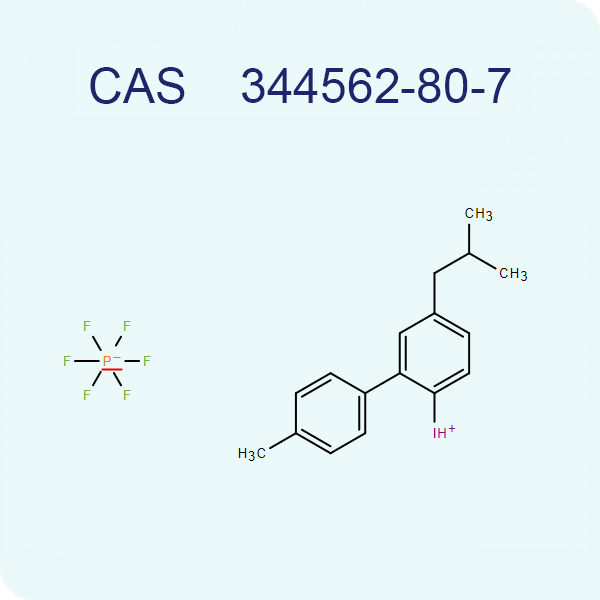 4-isobutylphenyl-4′-methylphenyl iodide hexafluorophosphate
January 6, 2022
PF07321332(Paxlovid)
January 7, 2022
Bis(4-tert-butylphenyl)iodonium hexafluorophosphate
API CDMO is the best Bis(4-tert-butylphenyl)iodonium hexafluorophosphate ram materials manufacturer in China.
Our factory has a complete production management system (ISO9001 & ISO14001),
with a monthly production capacity of 500kg.
Bis(4-tert-butylphenyl)iodonium hexafluorophosphate is a diaryliodonium salt used for chemical synthesis in materials science and micro/nano electronics.It belongs to the following product categories, such as Diphenyliodonium Compounds, Functional Materials, Iodonium Sulfonium & Oxonium Compounds, Photopolymerization Initiators and so on.
Product
Bis(4-tert-butylphenyl)iodonium hexafluorophosphate
CAS No.
61358-25-6
Synonyms
61358-25-6;

Bis(4-tert-butylphenyl)iodonium Hexafluorophosphate;

BIS(4-T-BUTYL PHENYL)IODONIUM HEXAFLUOROPHOSPHATE;

bis(4-tert-butylphenyl)iodanium;hexafluorophosphate.

SMILES
F[P-](F)(F)(F)(F)F.CC(C)(C)c1ccc([I+]c2ccc(cc2)C(C)(C)C)cc1
InChI
1S/C20H26I.F6P/c1-19(2,3)15-7-11-17(12-8-15)21-18-13-9-16(10-14-18)20(4,5)6;1-7(2,3,4,5)6/h7-14H,1-6H3;/q+1;-1
InChI key
CJLLNCQWBHTSCB-UHFFFAOYSA-N
Availability
In Stock
MF.
C20H26F6IP
MW.
538.3
Melting Point
174 °C
Boiling Point
N/A
Appearance
White powder
Purity
98%
Application
Photoinitiator,Photopolymerization Initiators
Storage
RT
COA & NMR
Download
MSDS
Download
Reference
[1] Salvi, Matthew C., "A New Synthesis of Bis (4-tert-butylphenyl) Iodonium Hexafluoroantimonate; a Known Catalyst for Photopolymerization" (2015). Chemistry Master's Theses. 11.
[2] Yusubov S.; Maskaev V.; Zhdankin V.; Iodonium salts in organic synthesis. Department of Chemistry and Biochemistry, University of Minnesota Duluth, USA 2011
[3] Hossain, D.; Kitamura, T.; Direct, easy, and scalable preparation of (diacetoxyiodo) arenes from arenes using potassium peroxodisulfate as the oxidant Tetrahedron Letters. 2006, 47, 7889–7891.
[4] Merritt, E. A.; Olofsson, B.; Diaryliodonium salts: A journey from obscurity to fame. Angew.Chem. Int. Ed. 2009, 48, 9052.