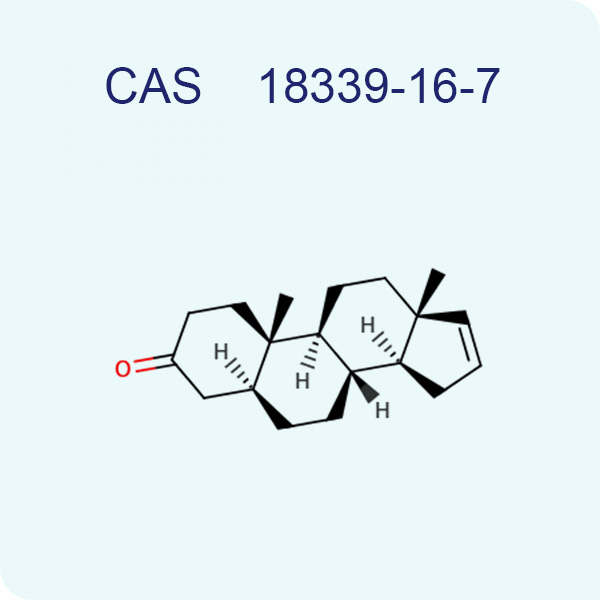 Methyl 5-(bromomethyl)-2-fluorobenzoate
June 15, 2023
Estratetraenol
Estratetraenol is also known as estra-1,3,5(10),16-tetraen-3-ol, it is an endogenous steroid discovered in women with pheromone-like effects in primates, including humans. Estratetraenol is a sex hormone related to estrogen that is generated from androstadienone by aromatase, most likely in the ovaries. It has no known estrogenic effects. APICDMO is the professional manufacturer of Estratetraenol and accept the custom service.
Product
Estratetraenol
CAS No.
1150-90-9
Synonyms
EST;

Estratetraenol;

Compound 742;

Estra-1,3,5(10)-16-tetraen-3-ol;

Estra-1,3,5(10),16-tetraen-3-ol.

InChI key
CRMOMCHYBNOFIV-BDXSIMOUSA-N
SMILES
CC12CCC3C(C1CC=C2)CCC4=C3C=CC(=C4)O
Availability
In Stock
MF.
C18H22O
MW.
245.4
Appearance
Pale yellow liquid
Purity
98%
Application
For research use only
 Storage
RT
COA & NMR
Download
MSDS
Download
Estratetraenol is also known as Estra-1,3,5(10),16-tetraen-3-ol (EST), it is a naturally occurring steroid hormone in mammals that regulates the menstrual cycle, pregnancy, and menopause. It is generated from cholesterol and has a similar structure to other steroid hormones like estrogen and progesterone.
Estratetraenol was one among the first pheromones discovered to have different effects on men and women. According to research, estratetraenol has the greatest effect on heterosexual men and lesbian women. These findings were especially intriguing since they demonstrated that pheromones have diverse effects depending on sexual orientation. In another study, researchers discovered that when heterosexual men were exposed to estratetraenol, they were more likely to perceive gender ambiguous images as feminine.
Estratetraenol has been linked to a variety of positive benefits in pheromone consumers, including self-effects that are beneficial to both men and women. Overall, estratetraenol is a pheromone that is incredibly warm, cuddly, and romantic. Users said that when they used estratetraenol, their sexual partners became more affectionate, protective and easier to connect with.Both male and female users have discovered that estratetraenol can reduce feelings of anxiety and despair while also improving overall mood.Male users have discovered that estratetraenol can boost the efficacy of androstadienone, one of the most widely utilized pheromones.
Reference
[1] Lundström (2005). Human pheromones : psychological and neurological modulation of a putative human pheromone. Uppsala: Acta Universitatis Upsaliensis. p. 17. ISBN 91-554-6297-9.
[2] Laska, M; Wieser, A; Salazar, LT (2006). "Sex-specific differences in olfactory sensitivity for putative human pheromones in nonhuman primates". Journal of Comparative Psychology. 120 (2): 106–12.
[3] Berglund, H; Lindström, P; Savic, I (2006). "Brain response to putative pheromones in lesbian women". Proceedings of the National Academy of Sciences of the United States of America. 103 (21): 8269–74.
[4] Jacob, S; Hayreh, DJ; McClintock, MK (2001). "Context-dependent effects of steroid chemosignals on human physiology and mood". Physiology & Behavior. 74 (1–2): 15–27.